Mohamed Juma Buamaim, Chairman of the MENA Golf Tour, with Darren Clarke, Patron of the tour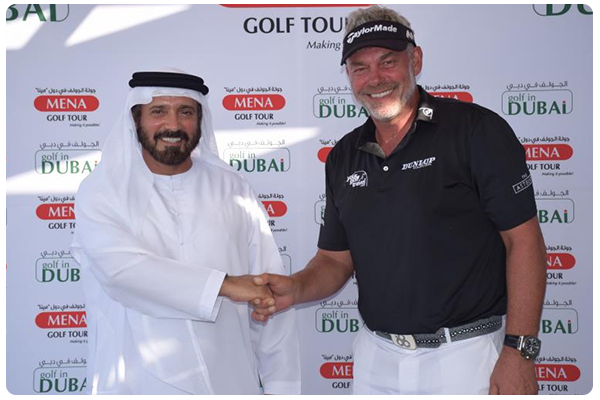 DUBAI — The MENA Golf Tour will make its maiden voyage to the "Land of Smiles," as Thailand is popularly known for its effusive hospitality, when it hosts two events there next month.
The Mountain Creek Thailand Open by Golf Citizen — the fifth event on this year's schedule — will be held at Mountain Creek Golf Resort, Sikhio, Nakhon Ratchasima, from May 10 to 12, followed by the Mahasamutr Masters at Banyan Golf Club in Hua Hin on May 17-19 in a vivid reflection of the tour's growing strength.
With the Tourism Authority of Thailand stepping up its drive to attract more in-bound tourists, the two events are aimed at realising the country's huge golf tourism potential in addition to promoting Golf Citizen, one of the fastest growing online tee time booking engines which has richly-diverse golf courses on its network.
"A lot of fresh talent coming up through the ranks over the last few years, but the opportunities to play are limited. With MENA Golf Tour travelling to new destinations, it will provide another platform for young professionals to develop and showcase their skills on a global basis," said Darren Clarke, Patron of the MENA Golf Tour.
"This MENA Golf Tour is one of a kind providing the right atmosphere, and particularly for amateurs, to hone their competitive edge alongside professionals, which is crucial to the development of the game in the region," added Clarke, the 2016 European Ryder Cup captain.
"We are delighted to be making our first visit to Thailand where you don't just get great golf, but enjoy a memorable experience," commented Mohamed Juma Buamaim, chairman of the MENA Golf Tour.
"If Thailand has positioned itself as the number one golf destination in Asia, it is because of an impressive portfolio of world-class courses, many of them designed by the world's leading architects and famed golfers, offering value for money," he added.
"Thailand's economy benefits both directly and indirectly from golf tourism, and there is a positive synergy between golf and the key tourism sectors. Golf is just one of the many reasons that people visit Thailand to savour the experience of playing on courses of international standard."
"We look forward to welcoming MENA Golf Tour members and I am confident they will relish the challenge of playing on two of the finest courses in Thailand. I wish them the very best."
Besides providing a healthy playing environment, the MENA Golf Tour offers its members a number of incentives that include multiple European Tour starts and full playing privileges on the Sunshine Tour in addition to exemptions into the Final Stage of the Asian Tour Q-School.
Held under the auspices of the Shaikh Maktoum Golf Foundation, the MENA Golf Tour is affiliated to R&A and the Arab Golf Federation and its expanded schedule this season will have 20 events which will see players travel to new destinations in Kuwait, Egypt, Spain, Thailand and South Africa.