New-look Golf Course Springs Pleasant Surprise on Golfers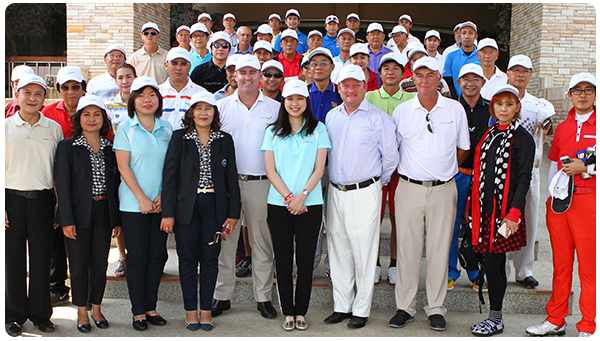 Sikhio, March 18
:
Mountain Creek Golf Course
, which put on a totally new, 'golfer-friendly' look after months of careful execution of improvements, has sprung many a surprise on golfers who participated at the
MOUNTAIN CREEK VIP INVITATIONAL 2016
here.
Over 60 golfers representing Thailand's leading golf agents and tour operators as well as print and electronic media hit the new-look golf course at 12 noon shotgun start. The invitational tournament was played on Valley and Highland courses. The format of play was 36 System with four prizes - top three Net Scores and the Lowest Gross Score.
The VIP invitees included Tourism Authority of Thailand (TAT) Nakhon Ratchasima Office Director Khun Rungtip Bookkhuntod, TAT Asst. Director Khun Pawana Prajit, KBS Travel and Intertrade Managing Director Khun Kosol Boonma, Golfasian Managing Director Mr. Mark Siegel,
Pattaya Golfer
Managing Editor Mr. Mike Bridge,
Golf Digest
Asst. Editor Khun Arun Sadrum and
Golf Tips
Features Editor Khun Watthanaphong Phanna. 
Many golfers, especially those who had played Mountain Creek twice or thrice in the recent past, felt very happy about the improvements made to the course. They said it's now become a lot easier to play than before. Many fairways are clear of obstructions and greens and flags are more visible.
World Splendour Holidays Managing Director Khun Parichote Sukriket observed: "This is my third time here. When I played Mountain Creek for the first time three years ago, I felt the difficulty level could be compared to that of Industry Hills (Golf Club) in Los Angeles where only professional golfers could play with comfort and ease. But now it was a pleasant surprise for us that the course has become a lot easier!"
OnGreen Golf
magazine Director Khun Adisorn Pittayakun and Senior Editor Tanongsak Puribhat, Khun Udomwit Nuratch from
Siam Keela
and Khun Somjring Chuankul from
Golftime
said the course had become more 'open' and it was a welcome change. "The fairways have become amazingly wider now giving more choices for shot placement! The knowledgeable caddies were really helpful," they added.
Earlier welcoming the invitees, Mountain Creek Development Co., Ltd. Managing Director
Khun Ausana Mahagitsiri
said the 27-hole world-class golf course was designed by former world #1 and the winner of 5 Majors Seve Ballesteros. The championship standard Mountain Creek is Seve's one and only golf course in Thailand!
With three partials of nine holes each named
Creek
,
Valley
and
Highland
according to their natural terrain and environs, the golf course promises a unique and memorable experience with challenges and rewards balanced to perfection, Khun Ausana added.
Mountain Creek's golf management consultancy GLS Asia Managing Director Mr. Stacey Walton invited the audience to embrace the improvements which the management team had been working on in the past six months to improve the playability of the course and to enhance the service standards to become the No.1 golf resort in the Khao Yai region. "We had to initiate the changes based on the feedback from customers that the golf course was too difficult to play," Mr. Stacey explained.
GLS Asia Director of Operations Mr. Stuart Daly then remarked: "We have brought about a huge difference to the entire golf experience with efficient course maintenance, improved irrigation, enhanced service training, especially for caddies, and attention to detail in all areas of operations."
Also, present was John Wither, GLS Asia PGA professional and former golfer on the Asian Tour who said the golf course was made a lot easier and more enjoyable to play. "Our prime objective to carry out improvements that included widening of fairways andpruning of overgrown trees was to ensure that golfers could clearly see the greens and pin flags. Khun Chai, the golf course superintendent maintains the course in excellent condition," added Mr. John.
Mr. Stacey Walton also spoke about the dynamic and innovative approach to sales and marketing that the company had been implementing to stand out from competition. "With that in mind our artwork designs are refreshingly different with new and attractive promotions. We have launched an innovative '
Golfers' Paradise
' package, thanks to which customers can enjoy their stay in a wonderful resort villa, play 27 holes of golf besides enjoying food and beverages by paying just 6,600 baht!
Golfers' Paradise
is on sale from now until 31 October 2016," he pointed.
Mountain Creek is owned by PM Group, which also owns and manages the newly opened
Lakewood Links
in Bangkok, a floodlit 18-hole golf course open for day and night golf.Their just introduced new membership program includes one year unlimited golf at Mountain Creek. Details of the membership can be found on
www.mountaincreekthailand.com
.
Mr. Stacey announced
Mountain Creek Golf Resort
would be the host venue for the first ever professional golf tour in Thailand sanctioned by the MENA (Middle East & North Africa) Golf Tour from 9-12 May 2016. The fastest growing MENA Golf Tour –
www.menagolftour.com
– provides an effective platform for professional golfers to gain world rankings!
With 78 or 6 over par, Khun Chanchai Rattanamasmongkol emerged as the winner of the Lowest Gross Score, while Khun Tanongkiat Sajja-Atisthan (69), Khun Bhurich Aksorntub (69) and Mr.Mark Siegel (69) won the first, second and third Low Net Scores respectively. Mountain Creek Director of Sales Khun Pornwilai Yang presented trophies to the winners.
After the prize presentation the participants were treated to a sumptuous buffet dinner. Mountain Creek Golf Manager Khun Pittiwatt Pattanan proposed a vote of thanks. Mountain Creek Golf Resort Manager Khun Navanat Nimwattana was among those present.